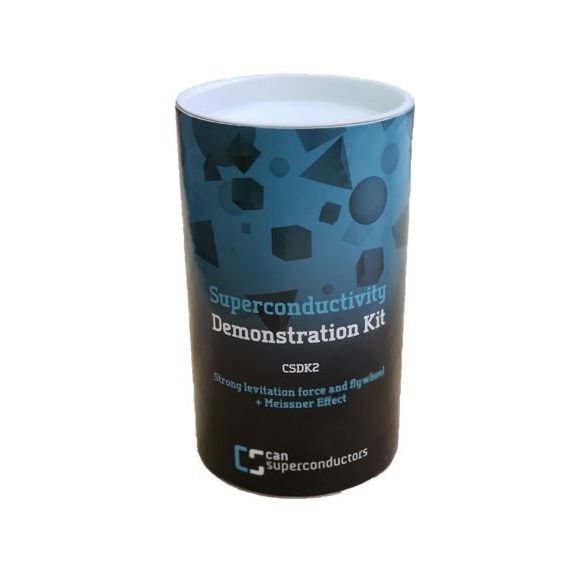  
CSDK2 - Strong Levitation Force
Demonstration Kit 2
Strong Levitation Force + Meissner Effect
This kit includes also all parts from CSDK1 Kit for Meissner Effect demonstration!
YBCO-123 polycrystalline disk for Meissner Effect
YBCO levitation single-domain disk for strong levitation
NdFeB magnets
Accessories for experiments
Example of applicable superconductivity.
Easy handling superconducting magnetic top of 0.1 kg levitating and flying above high temperature superconductor cooled by liquid nitrogen demonstrates strong forces between NdFeB permanent magnet and superconducting YBaCuO levitator. The kit also includes aids for Meissner effect demonstration (as in CSDK1 kit).
The disk for Meissner Effect is prepared in a way that the trapped magnetic field is very weak and the Meissner Effect then dominates over the trapped field. Therefore this Y-Ba-Cu-O disk for Meissner Effect demonstration is made of polycrystalline material that shows low critical currents.
On the other hand, the disk for demonstration of strong levitation force (flywheel demo, etc.)  is prepared in a way that allows flow of high critical currents and the trapped magnetic field is high and dominates over the Meissner Effect. This is achieved by preparing the Y-Ba-Cu-O disk as a single crystal of high critical currents.
The kit contains:
1× YBCO-123 disk for Meissner Effect, diameter 22 mm, height 3 mm
1× YBCO levitation disk, diameter 21 mm, height 7mm
1× small rare earth magnet, NdFeB, diameter 4 mm, height 1.5 mm, grade N42
1× rare earth magnet, NdFeB, diameter 15 mm, height 5 mm, grade N38
1× tweezers
1× insulation cup
1× set of manipulation aids
1× instructions
find out more
This shop offers only the CAN products that are available for immediate shipping.
For complete products range or for a bulk quote, please visit our website or contact us.